Please register for yourself and a maximum of 2 guests via AIMS no later than 20 April 2023 (Thursday), after which no registrations or further seating requests will be accepted. If you need to update or modify the guest information, please do so at least 4 working days before your Commencement session. Please refer to the Demo for Confirmation of Commencement Attendance and e-Ticket Registration.
Issuance of e-Tickets
e-Tickets will be issued to graduates and guests via the following channels at least two working days prior to the respective Commencement day:
| Participant | Channel | e-Ticket for |
| --- | --- | --- |
| Graduate | e-mail, SMS and AIMS | Graduate and guests |
| Guest | SMS | Guest himself/herself |
Use of e-Tickets
Both graduates and guests are required to show the e-Ticket (in electronic or printed form) at the entrances of CityU campus and all ceremonial and live broadcast halls.
Graduates will be assigned with a seat while free seating for guests.
Sample of e-Ticket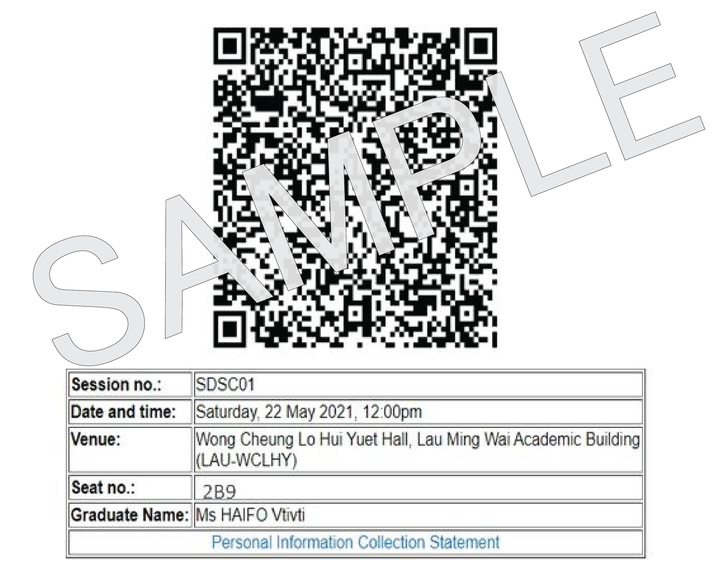 Important Notes to e-Ticket Holders
Before entering information of your guests, please make sure that they have read the Personal Information Collection Statement.
Upon entry to the CityU campus on the Commencement day, please present the e-Ticket either in electronic or printed form, together with your HKID card/passport/personal identity document, to the security staff at the campus entrance.
The duty staff will scan the QR code on the e-Ticket for your admission to the campus and the ceremonial hall. Please DO NOT fold the printed copy QR code.
The e-Ticket is non-transferrable and admits the registered graduate/guest only.
Graduates will be assigned a seat in the hall while free seating for guests.
Guest seats are available on a first-come-first-served basis. Guests may be directed to watch live broadcast of the ceremony at a designated venue if the hall is full.
The hall will be open for admission about 30 minutes before the ceremony. Please be seated 10 minutes before the ceremony.
Right of admission to the hall is reserved and subject to the venue's conditions of entry. Late comers will only be admitted at the appropriate points of the ceremony as determined by the University.
Eating and drinking are not allowed throughout the ceremony.
Photo-taking and video recording will take place during the Commencement. The live videos will be webcasted through different platforms on the Commencement day. The image and/or videos may be posted on CityU's websites and social media for promotional and archival purposes.
The final arrangements for entry to the hall or seating of graduates and guests may be adjusted according to the Government infection control guidelines that may be in force, if any.